Laguna Beach Real Estate

Videos and Reports 2016 to 2021
Laguna Beach Real Estate Video | A Broker's Take on the August 2021 Laguna Beach Real Estate Market
Laguna Beach Real Estate Video | A Broker's Take on the July 2021 Laguna Beach Real Estate Market
Laguna Beach Real Estate Video | A Broker's Take on the June 2021 Laguna Beach Real Estate Market
Laguna Beach Real Estate Magazine Publisher, Boyd Roberts, August 2021: LAGUNA TO RALLY THRU 2022 The sold median was up $92,000 while the $ per square foot fell $101 in August. The supply of homes remained tight at just under 2 months. The supply of homes below $1,500,000 imploded to under a quarter of one month. Charts pages 5, 6, and 9.
​
Listing Crisis. As of September 1st, the number of active listings came in at just 111 – the lowest print in my 5+ years tracking Laguna Beach real estate. The average of the last 5 September 1st prints is 257 listings. Three things. There were 56 closings in Laguna in August. There are 56 deals currently in escrow. Active inventory is cyclical. It always declines from September 1st to January 1st. In the last 5 years the average decline was 82 active listings. Charts page 6.
​
Two predictions. First, the monthly median sold price will rise in September. With the active median at $4,395,000 and the August sold median at $2,592,000 – a difference of $1,803,000 - it is a near certainty that September will be up (no guarantees). In fact, every time in the past that this difference has exceeded $1,400,000, Laguna has always been up that month. Chart page 5.
Second, the yearly median sold price for 2022 will be higher than 2021. Since 1999 every year with 350, or more, closings has been followed by an up year (except for 2015). Year-to-date we have already had 400 closings, so 2022 should be up. Again, no guarantees. Chart page 5.
​
Call me to take advantage of this market.
Laguna Beach Real Estate Magazine Publisher, Boyd Roberts, July 2021:
Historic Parabolic Move
​
May 5, 2020, well into the shutdown, you heard it here first. Reporting on what turned out to be the exact low (in my April 2020 Broker's Take on the April 2020 market), this rapporteur said, "with the pending median $920,000 higher than April's print prices should rally soon." Then 4 months later on September 17th I said, "if Laguna Beach real estate was a stock, I would say it is about to go parabolic."
Evidenced by the 1-month, 3-month, 6-month, 12-month, and yearly price charts – starting on page 5 – that is exactly what happened.
​
What now? And is this parabolic move different?
​
I will never forget the 1989 spike and the subsequent crash the following year. Classic manic buying was followed by a cacophony of economic dislocations the next year: interest rates between 12 and 14%, the Savings and Loan Crisis, and a recession. The market did not start going up again until 1997.
​
Then in 2007 – after appreciating two-fold - the mortgage market seized up and we had the sharpest economic implosion since the 1930s. Not surprisingly, prices crashed again.
​
I am not saying this time is different, but the foundation of this 2021 market is solid: we did just come out of a mini depression, the government is throwing trillions of dollars into the economy, mortgage underwriting is solid, and mortgage rates are well below 3%.
No matter your outlook, call me for all your real estate needs. Stay safe and have an excellent August.
Laguna Beach Real Estate Magazine Publisher, Boyd Roberts, June 2021:
Laguna Up $1.2M
Listings Plunge on Record Volume | Supply Implodes
​
Median Laguna Beach sold prices are up $521,000 year to date, $729,000 year over year, and $1,214,000 since the shutdown. Chart page 6.
​
In terms of $ per square foot (3-month) we are up 16% since December and 40% year over year. Chart page 9.
​
The five-year median number of active listings is 227. Historically, the supply increases approximately 100 listings from January 1st into the summer months and declines 100 listings through the end of the year - except this last year. We started 2021 with only 136 listings. On July 1st when there are typically 250 to 300 active listings, we were at only 117 – a multiyear low. Chart page 7.
​
The 5-year median number of monthly closings is 32. June's number was 64 closings, a multiyear high. Chart page 8.
If you divide the July 1st number of active listings (117) by the June rate of sales (64) you can estimate the number of months (1.82) that it would take to sell all actively listed homes. The 5-year median is 7.2 months. Notice that the May 2020 supply was 13.2 months and has now collapsed by 86%. How high does the price have to go before sellers list their home for sale? Chart page 7.
$10,000,000+ Market
March 2016 to March 2019
Laguna Beach Real Estate Video | A Broker's Take on the March 2016 $10,000,000+ Market
​
Laguna Beach Real Estate Video | A Broker's Take on the December 2017
$10,000,000+ Market
​
Laguna Beach Real Estate Video | A Broker's Take on the June 2018
$10,000,000+ Market
​
Laguna Beach Real Estate Video | A Broker's Take on the August 2018
$10,000,000+ Market
​
Laguna Beach Real Estate Video | A Broker's Take on the August 2018
$5-10,000,000 Market
​
Laguna Beach Real Estate Video | A Broker's Take on the March 2019
$10,000,000+ Market
​
Laguna Beach Real Estate Video | A Broker's Take on the August 2020
$10,000,000+ Market
​
Laguna Beach Real Estate Video | A Broker's Take on the September 2020
$5-10,000,000 Market
​
Monthly Laguna Beach Real Estate Videos/Reports February 2016 to April 2020
Laguna Beach Real Estate Video | A Broker's Take on the February 2016 Market
​
Laguna Beach Real Estate Video | A Broker's Take on the March 2016 Market
​
Laguna Beach Real Estate Video | A Broker's Take on the April 2016 Market
​
Laguna Beach Real Estate Video | A Broker's Take on the May 2016 Market
​
Laguna Beach Real Estate Video | A Broker's Take on the June 2016 Market
​
Laguna Beach Real Estate Video | A Broker's Take on the July 2016 Market
​
Laguna Beach Real Estate Video | A Broker's Take on the August 2016 Market
​
Laguna Beach Real Estate Video | A Broker's Take on the September 2016 Market
​
Laguna Beach Real Estate Video | A Broker's Take on the October 2016 Market
​
Laguna Beach Real Estate Video | A Broker's Take on the November 2016 Market
​
Laguna Beach Real Estate Video | A Broker's Take on the December 2016 Market
2016 in Review | 2017 Outlook
​
Laguna Beach Real Estate Video | A Broker's Take on the January 2017 Market
​
Laguna Beach Real Estate Video | A Broker's Take on the February 2017 Market
​
Laguna Beach Real Estate Video | A Broker's Take on the March 2017 Market
​
Laguna Beach Real Estate Video | A Broker's Take on the April 2017 Market
​
Laguna Beach Real Estate Video | A Broker's Take on the May 2017 Market
​
Laguna Beach Real Estate Video | A Broker's Take on the June 2017 Market
​
Laguna Beach Real Estate Video | A Broker's Take on the July 2017 Market
​
Laguna Beach Real Estate Video | A Broker's Take on the August 2017 Market
​
Laguna Beach Real Estate Video | A Broker's Take on the September 2017 Market
​
Laguna Beach Real Estate Video | A Broker's Take on the October 2017 Market
​
Laguna Beach Real Estate Video | A Broker's Take on the November 2017 Market
​
Laguna Beach Real Estate Video | A Broker's Take on the December 2017 Market
2017 in Review | 2018 Outlook
​
Laguna Beach Real Estate Video | A Broker's Take on the January 2018 Market
​
Laguna Beach Real Estate Video | A Broker's Take on the February 2018 Market
​
Laguna Beach Real Estate Video | A Broker's Take on the March 2018 Market
​
Laguna Beach Real Estate Video | A Broker's Take on the April 2018 Market
​
Laguna Beach Real Estate Video | A Broker's Take on the May 2018 Market
​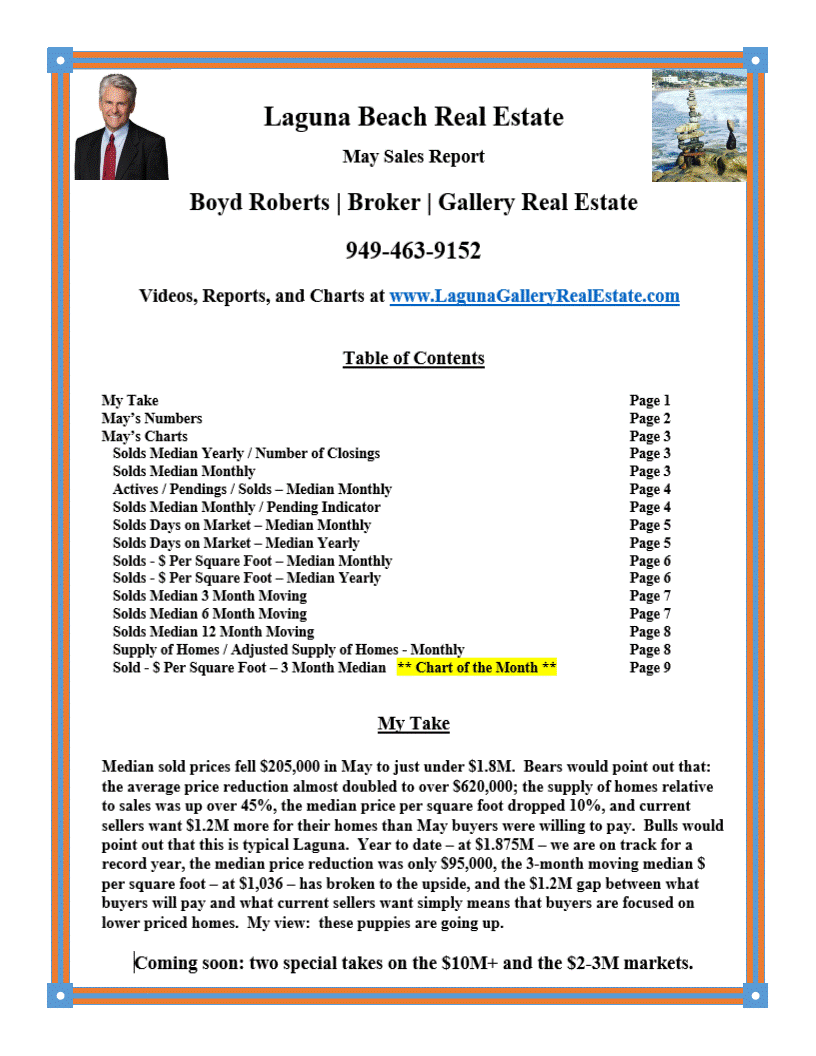 Laguna Beach Real Estate Video | A Broker's Take on the June 2018 Market
​
Laguna Beach Real Estate Video | A Broker's Take on the July 2018 Market
​
Laguna Beach Real Estate Video | A Broker's Take on the August 2018 Market
​
Laguna Beach Real Estate Video | A Broker's Take on the September 2018 Market
​
Laguna Beach Real Estate Video | A Broker's Take on the October 2018 Market
​
Laguna Beach Real Estate Video | A Broker's Take on the November 2018 Market
​
Laguna Beach Real Estate Video | A Broker's Take on the December 2018 Market
2018 in Review | 2019 Outlook
​
Laguna Beach Real Estate Video | A Broker's Take on the January 2019 Market
​
Laguna Beach Real Estate Video | A Broker's Take on the May 2019 Market
​
Laguna Beach Real Estate Video | A Broker's Take on the February 2019 Market
​
Laguna Beach Real Estate Video | A Broker's Take on the June 2019 Market
​
Laguna Beach Real Estate Video | A Broker's Take on the March 2019 Market
​
Laguna Beach Real Estate Video | A Broker's Take on the July 2019 Market
​
Laguna Beach Real Estate Video | A Broker's Take on the April 2019 Market
​
Laguna Beach Real Estate Video | A Broker's Take on the August 2019 Market
​
Laguna Beach Real Estate Video | A Broker's Take on the January 2020 Market
​
Laguna Beach Real Estate Video | A Broker's Take on the February 2020 Market
​
Laguna Beach Real Estate Video | A Broker's Take on the March 2020 Market
​
Laguna Beach Real Estate Video | A Broker's Take on the April 2020 Market
​
Laguna Beach Real Estate Video | A Broker's Take on the May 2020 Market
​
Laguna Beach Real Estate Video | A Broker's Take on the June 2020 Market
​
Laguna Beach Real Estate Video | A Broker's Take on the July 2020 Market
​
Laguna Beach Real Estate Video | A Broker's Take on the August 2020 Market
​
Laguna Beach Real Estate Video | A Broker's Take on the September 2020 Market
​
Laguna Beach Real Estate Video | A Broker's Take on the October 2020 Market
​
Laguna Beach Real Estate Video | A Broker's Take on the November 2020 Market
​
Laguna Beach Real Estate Video | A Broker's Take on the December 2020 Market
​
Laguna Beach Real Estate Video | A Broker's Take on the January 2021 Market
​
Laguna Beach Real Estate Video | A Broker's Take on the February 2021 Market
​
Laguna Beach Real Estate Video | A Broker's Take on the March 2021 Market
​
Laguna Beach Real Estate Video | A Broker's Take on the April 2021 Market
​